How This World-Famous Trainer Used Fitness To End Her Severe Depression
---
One scroll through health coach Massy Arias' Instagram feed will tell you most of what you need to know about her. She loves to exercise, she's a new mom of a baby girl, and she's a fan of inspirational quotes and mantras. But what Massy's 2.3 million loyal followers don't know—unless they're willing to do a deep dive into her heartfelt captions—is that Arias' life wasn't always this full and inspiring.
↓
When Massy first started her fitness journey, she was in her early 20s. While everyone around her was deep into partying and having fun, Massy was focused on other things: She was just getting out of an abusive relationship, and her brother had recently been diagnosed with cancer and was undergoing treatment. Massy was depressed, and she didn't see much of a way out—until she started exercising.
↓
Turning to fitness in her darkest hours.
In the most difficult days of her depression, Massy barely had the strength to get out of bed in the morning. "I was severely depressed," says Massy, who currently works closely with Target and C9 Champion to help empower women. "I began working out and training, which slowly helped me beat my depression and gave me a more positive outlook on a lot of things. That's why I so strongly stand behind women's empowerment and believe that we must encourage one another to move and succeed and get better at everything we do."
Now, Massy is a new mom of a baby girl, and she spends her days working hard to remind clients that fitness isn't about how you look—it's about how you feel. "Always be the best version of yourself," she advises. "We often find ourselves struggling to look a certain way or to have a certain body type, and this can be detrimental to us both physically and mentally. You should always strive to be better than yesterday and strive for progress. By utilizing this realistic approach, it becomes much easier to accomplish a goal."
↓
Facing the physical challenge of motherhood.
When Massy had her daughter, Indira, in February of this year, she was faced with new challenges that she didn't see coming—she didn't have the physical energy to exercise. "It was quite a challenge trying to manage feeding times, diaper changes, and her sleep schedule, all while trying to add in time and energy for a workout," she says. "As we began a more set daily routine, I started to get creative and incorporate her into my workouts. I began by doing yoga in the living room in the mornings, just before she woke up, and eventually, that evolved to bringing her to the gym with me and on light jogs around my apartment. I found that by slightly adjusting my workout schedule to better fit her needs, anything is possible."
↓
Still, Massy's body continues to evolve postpartum. "I expect it to continue to change over the next few months as I get back in the course of my normal workout routine," she says. "I have learned that self-love starts from within, and in order to evolve and become the best version of yourself, you must first change your mindset. As my body has changed both pre- and post-pregnancy, I have learned to accept every change that comes with it because it allows me to set goals for myself and to stay motivated. I am always working to become the best version of myself. And by keeping my eye on the prize, I am able to stay positive and look for ways to improve rather than to focus on the negative aspects."
↓
The food that fuels Massy.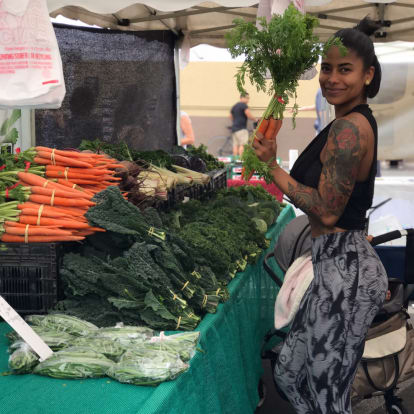 As most lovers of fitness know, fueling up with the proper nutrients is key—and Massy has very specific go-to's. "I am a huge avocado lover," she says. "I will often have an avocado toast for breakfast or for a snack in between meals along with a fresh-pressed green juice with lemon, celery, kale, and spinach. One of my favorite meals for breakfast is oatmeal mainly because of the versatility that it offers and the various flavors that I can create. I often include toppings such as almond butter, chia seeds, and toasted coconut for the perfect balance of healthy fats without compromising flavor. My go-to lunch/dinner combination is usually a veggie wrap with hummus as well as a side salad including toppings like bell pepper, cucumber, carrots, corn, and tomato. It's all about the vegetables!"

By Leigh Weingus, mbg Yoga & Fitness Editor