Tell the Real Story of Thanksgiving With Indigenous Food
Thanksgiving is one of the most widely celebrated and beloved holidays in the US. For most Americans, Thanksgiving means food—more than 90 percent of the country partakes of a Thanksgiving meal with friends and family.
But for many Native Americans, Thanksgiving symbolizes theft, cultural appropriation, and genocide. Since 1970, some have gathered on Cole's Hill, overlooking Plymouth Rock, to commemorate Thanksgiving as a National Day of Mourning.
"Thanksgiving Day is a reminder of the genocide of millions of Native people, the theft of Native lands, and the relentless assault on Native culture," according to the United American Indians of New England, which established the National Day of Mourning. "Participants in National Day of Mourning honor Native ancestors and the struggles of Native peoples to survive today. It is a day of remembrance and spiritual connection as well as a protest of the racism and oppression which Native Americans continue to experience."
♣
A Sioux Chef Remakes the Day
While acknowledging that painful history, some Native Americans do celebrate Thanksgiving and make the day their own.In his James Beard award-winning cookbook The Sioux Chef's Indigenous Kitchen, Chef Sean Sherman, a citizen of the Oglala Lakota Sioux tribe, writes:
↵
"[Many Native Americans] gather in a ritual giving of thanks for the harvest and to honor their ancestors. Our family and friends cook a meal of squash, wild rice, and turkey all seasoned with indigenous flavors."
↵
Sherman, who was chosen as one of S&H's 10 spiritual leaders for the next 20 years, runs the Sioux Chef, a catering company with an ulterior motive—he makes it a priority to educate people across the country about Native food and techniques to revitalize indigenous cuisine.
Sherman has extensively studied Native American farming techniques, wild food usage and harvesting, land stewardship, salt and sugar making, hunting and fishing, food preservation, migrational histories, elemental cooking techniques, and Native culture and history in general to reintroduce indigenous cuisine to today's world. His vision is to restore a more authentic and wildly varied concept of precolonial foods, sharing ancestral wisdom while also creating contemporary, bold-flavored dishes.
The core of Sherman's work addresses racism, food insecurity, conservation and sustainability, and our growing disconnectedness from each other and the earth. For all of us to truly celebrate Thanksgiving, we have to tell the truth about what really happened, he says.
"To me, the myth of Natives and colonists happily sharing a feast ignores the true story of the atrocities, genocide, and forced migration our people suffered at the hands of Europeans. This is why so few Native Americans celebrate the holiday."
So, this Thanksgiving, while spending time with your friends and family, acknowledge that painful history by telling the true story of the Wampanoag, the tribe referenced in the Thanksgiving story we all learned as children. (The Manataka American Indian Counsel provides a good version.)
And honor Native history and culture by offering a few of the indigenous dishes below at your Thanksgiving table.
♣
Sean Sherman's Indigenous Dishes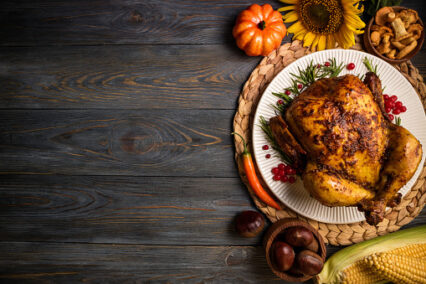 Maple-Brined Smoked Turkey
The traditional American Thanksgiving meal showcases the bounty of indigenous foods and the influence Native Americans have had on U.S. cuisine. Try Chef Sean's delicious turkey recipe.
♣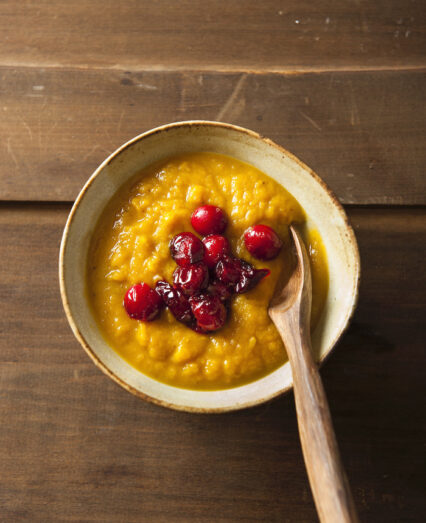 Squash and Apple Soup with Fresh Cranberry Sauce
This rich, flavorful soup has a creamy texture without cream. The cranberry sauce can also be drizzled over roasted squash or turkey.
♣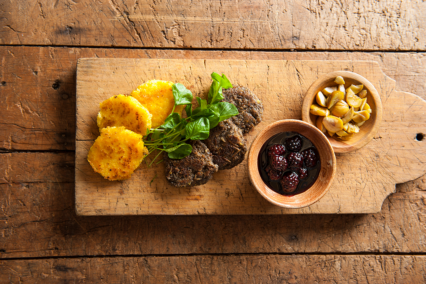 Wild Rice Cakes
The recipe for these couldn't be simpler and can be easily re-crisped as leftovers. Try Chef Sean's tasty cakes.
♣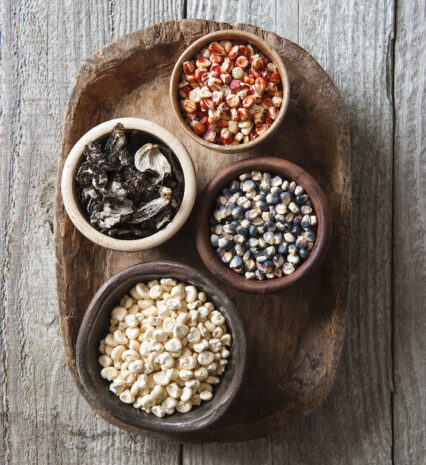 Sautéed Corn Mushrooms with Fresh Corn and Fried Sage
Corn smut or maize mushrooms are considered a delicacy and it's no wonder. They impart a sweet, earthy corn flavor to soups, stews, and sautés and are especially delicious cooked with corn. Try Chef Sean's sautéed corn mushrooms.
• • •