Rice, Mushroom & Leek Stuffed Delicata Squash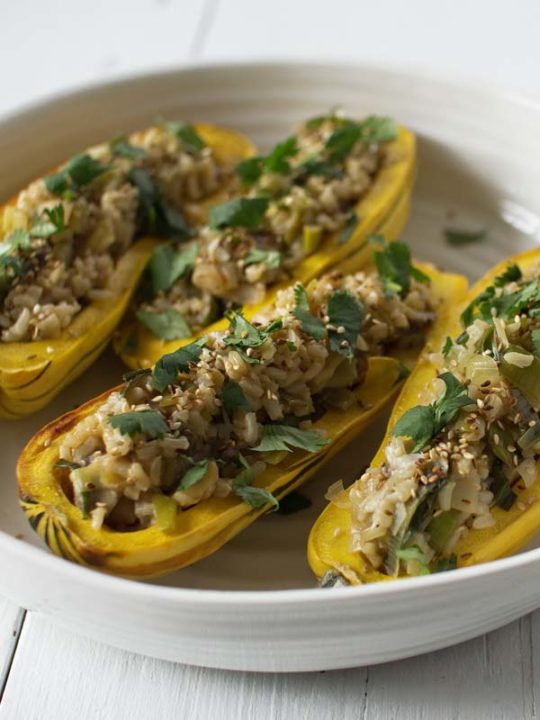 ---
Knobby, ribbed or smooth? Pale and muted or dark jewel colors? Winter squash come in so many visual varieties, they are a feast for the eyes every time you spot one. Each has an interior personality of its own, but tender, sweet flesh inside is going to greet you every time.
The awkward shape and ridged skin of the Delicata squash always remind me to slow down and adjust my position before running the knife through. Once cut in half, the task of scraping out the seeds and stringy bits has a very therapeutic feeling. I always push the seeds aside to bake later on. Now, hollowed out, there is yet another reason to love these winter beauties.
Their shapes lend themselves to fillings and can easily be made center stage for any meal.
Alternatively, Delicata is wonderful sliced into thick wedges for a simple side dish, chopped into bite sized pieces and tossed into endless salad combinations, or pureed and enjoyed as a soup. This Asian-inspired twist flavors the sweet Delicata flesh with rice, mushrooms, and leeks for a simple weeknight dinner.
2 Delicata squash, halved lengthwise and seeds removed
2 tablespoons sesame oil, divided
1/2 cup brown rice
1 cup water
1 tablespoon tamari or soy sauce
1 tablespoon rice vinegar
1 inch piece of fresh ginger, minced
1 clove garlic, minced
pinch of red chile flakes
1 teaspoon maple syrup
1 leek, sliced in half then thinly sliced
4 oz. mushrooms, thinly sliced
1 tablespoon toasted sesame seeds
Cilantro for garnish
↓
Preheat oven to 400˚F.
Bring the rice and water to a boil, cover and let simmer 30-40 minutes.
Place the halves into a baking dish and brush with about 2 teaspoons of the sesame oil. Bake squash for about 30 minutes or until just tender when pierced with a fork. Once done cooking, turn oven down to 350˚F.
Meanwhile, in a small dish, whisk together 2 more teaspoons sesame oil, tamari, rice vinegar, ginger, garlic, and red chile flakes, set aside.
Heat the rest of the sesame oil in a sauté pan over medium high heat. Once hot toss in the leeks and mushrooms and toss to coat. Continue cooking, stirring occasionally, until everything begins to soften. Then turn off heat and stir in the tamari mixture. Add in the rice and stir to evenly combine everything.
Spoon the rice mixture into the squash halves and bake for another 10 minutes. Remove from oven, sprinkle with sesame seeds and cilantro and serve.