5 Beautiful Ways to Use Pumpkin for Skin
With the onset of fall, pumpkin season has officially arrived! Autumn can also bring with it a serious case of dry skin, and let's face it—it can be hard to feel cute in your favorite apple-picking ensemble when your whole body feels tight and itchy. Pumpkin for skin is a wonderful seasonal remedy.
Pumpkin Power Inside and Out
Fortunately, pumpkins are good for more than gracing our homes with seasonal flair. This sizeable yet humble winter squash is packed full of vitamins and minerals that can nourish our skin from the inside out! Vitamins A, C, E, and B-6 are well-known complexion-boosters that help fight sun damage, plump up the skin, and give it a dewy glow. They're also rich in magnesium, folate, and potassium—all of which aid healthy skin cell regeneration.
The best part about adding pumpkin to your skincare routine is that you can use it both topically and internally. In other words, you can have your pumpkin and eat it too!
Topically, it acts as an extremely gentle exfoliant and immediately infuses your skin with moisture and nutrients. When eaten, your body absorbs those same nutrients to continuously support healthy skin and a beautiful complexion.
Pumpkins for Skin
Here are a few ways you can harness pumpkin's beautifying properties to make your skin radiant.
1. Soothing Face Mask
Few things make me happier than a good face mask, and this one is good enough to eat. Pumpkin puree is combined with glow-inducing Greek yogurt, anti-inflammatory raw honey, and restorative vanilla.
To make it, you'll need:
2 tbsp pumpkin puree
2 tsp Greek yogurt
1 tsp liquid raw honey
1 tsp pure vanilla extract
↓
Steps:
Combine all ingredients in a glass bowl.
Apply evenly to freshly cleansed face and neck.
Rinse after 10 to 15 minutes.
Apply moisturizer to lock in the glow.
2. Brightening Sugar Scrub
Let brown sugar scrub away dry, flaky skin while a beautifully scented blend of seasonal ingredients feeds the skin underneath for an all-over glow.
To make it, you'll need:
½ c brown sugar
¼ c pumpkin puree
¼ c pumpkin seed oil (coconut or olive oil also work)
7 to 10 drops vanilla essential oil
Sprinkle pumpkin pie spice (optional, omit for sensitive skin)
↓
Steps:
Combine all ingredients thoroughly in a glass bowl.
Apply to body from head to toe, gently rubbing in small, circular motions.*
Let sit for 5 to 10 minutes, to allow the moisturizers to sink in.
Rinse with warm water, pat dry, and apply moisturizer.
*Avoid the bikini area to prevent damaging particularly sensitive skin.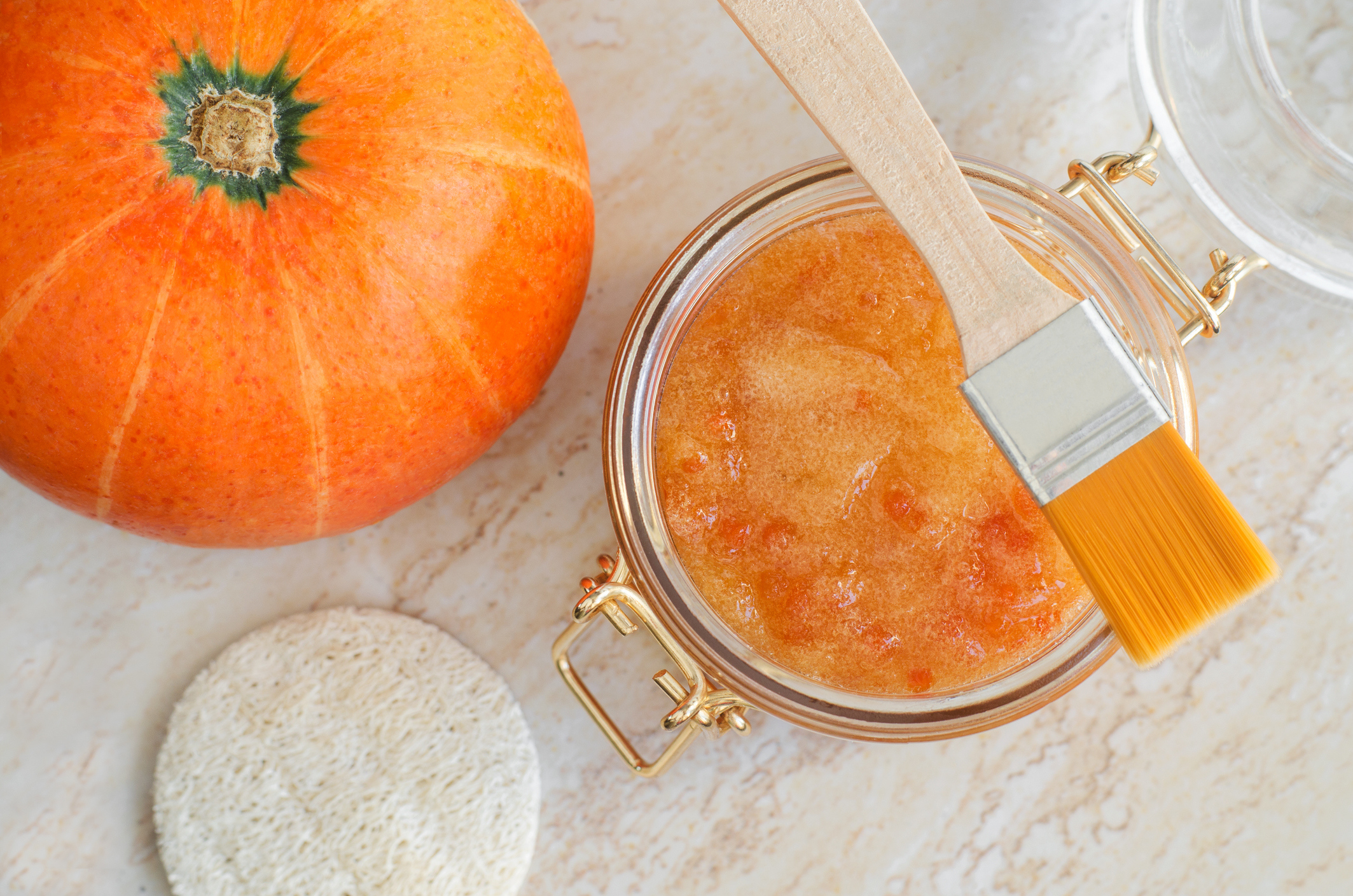 3. Pumpkin Spice Latte Bath
This isn't your grandmother's oatmeal bath. Pumpkin powder—made from dehydrated, ground pumpkin flesh—is the star here, supported by relaxing Epsom salts and soothing oats.
To make it, you'll need:
½ c pumpkin powder
1 c rolled oats (organic, if possible)
¼ c Epsom salts
1 tbsp pure vanilla extract or 8 drops vanilla EO
1 tsp cinnamon (optional, omit for sensitive skin)
Undyed muslin bag*
↓
Steps:
Fill your tub with hot water.
Add all ingredients to the muslin bag, shaking gently to mix.
Close the bag tightly and submerge it in the hot water.
Steep the bath mixture for about 15 minutes (it will definitely turn orange**).
Slip into the bath and soak for up to 45 minutes.
*Available where bath salts are sold. Look for bags specifically labeled for use in baths.
**Pumpkin powder shouldn't stain porcelain or your skin but may stain light-colored fabric.
Nourishing Smoothie
Scoot over pumpkin soy latte—this pumpkin smoothie not only tastes like pumpkin pie in a glass, it's also healthy enough to serve as a light breakfast, snack, or guilt-free dessert.
To make it, you'll need:
½ c pumpkin puree (frozen into cubes)
½ c ice
1 c milk (I love oat, but use your favorite!)
2 tbsp maple syrup
2 tbsp pumpkin seed butter (or your favorite nut/seed butter*)
1 tsp pumpkin pie spice
↓
Steps:
Add all ingredients to a blender.
Blend until smooth.
Pour into a glass and enjoy, or add to a smoothie bowl and top with bananas and pumpkin seeds!
*Peanut butter may affect the taste. Neutral-tasting butters like sunflower or almond work best.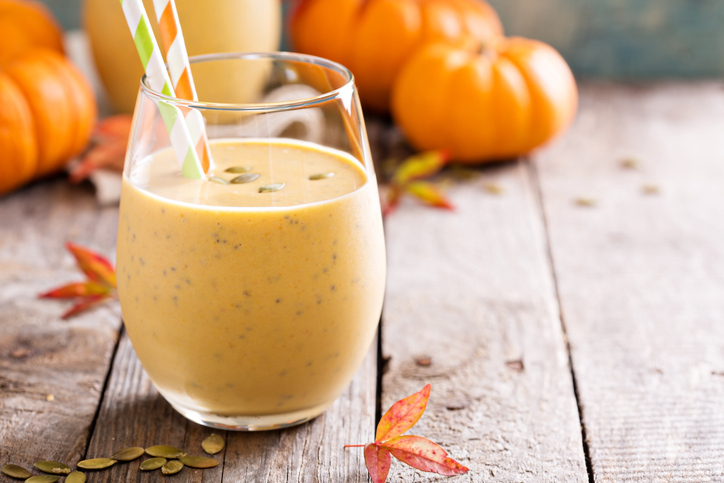 5. Pumpkin Seed Oil Moisturizer
When we talk pumpkin, we often only think about pumpkin puree. However, we shouldn't overlook the incredible benefits of pumpkin seed oil. Packed with antioxidants, omega-3s, and vitamin E, pumpkin seed oil is an amazing way to love your skin.
Though it's gentle enough to be used alone, blending it with aloe vera gel helps balance oils in the skin and even out skin tone.
To make it, you'll need:
½ tbsp pumpkin seed oil
1 tbsp dye-free, alcohol-free aloe vera gel
↓
Steps:
Mix the oil and gel together in a small glass bowl.
Apply to face in an even layer.
Leave on all day to protect and feed your skin.