3 Novel Ways To Eat Sweet Potatoes
↓
At the risk of stating the obvious, you need to load up your daily menu with nutrient-dense foods if you want to trade flab for muscle. And when it comes to packing a ton of good things into a small package, nothing rocks it like sweet potatoes.
These orange health bombs include fiber to help curb your appetite, potassium to help regulate fluid balance and muscle contraction, and nearly record-breaking amounts of beta-carotene. In addition to acting as an important antioxidant, beta-carotene can be converted to vitamin A to support a healthy immune system. Sweet potatoes also have a lower glycemic index than their white counterparts, which can be good news for your midriff.
The upshot is that sweet potatoes have every right to become one of your main go-to carb sources. They can lower your reliance on refined grains and sugary calories and, as you're about to find out, they can taste really good!
1. Sweet Potato Breakfast Boat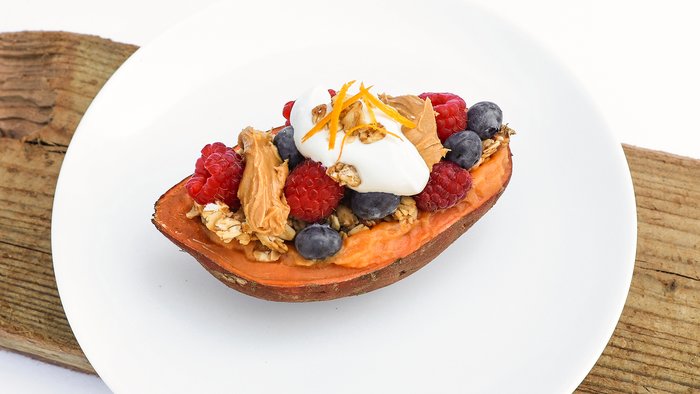 Jonesing for something different for breakfast than that bowl of oatmeal? Adorned with creamy nut butter, sweet-tart berries, thick Greek yogurt, and crunchy granola, this dazzling sweet potato boat hits the taste jackpot. If you really have a sweet tooth, go ahead and finish everything off with a drizzle of maple syrup.
Note: If using a large sweet potato, make each half a single serving.
↓
2. Sweet Potato Burrito Bowls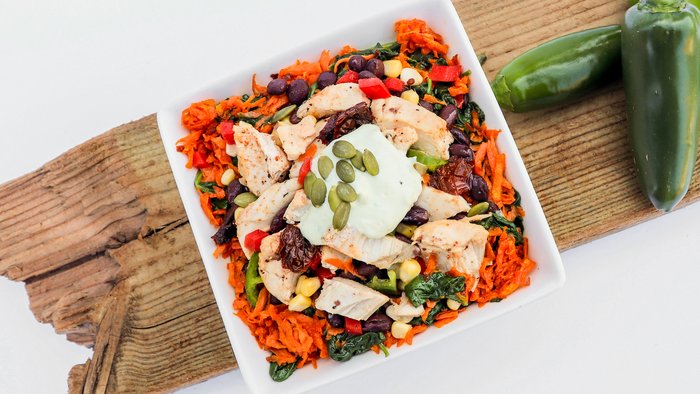 Sautéed in a bit of oil, shredded sweet potato cooks in a flash and is a lower-carb alternative to rice in these nutritionally charged burrito-style bowls. Employ a box grater to shred your orange spuds—or make quick work of it with a shredding blade on a food processor. You can use chicken you've cooked yourself, or press the easy button and bring home a rotisserie bird from the supermarket.
↓
3. Creamy Mashed Sweet Potato
One spoonful of this stellar side dish, and you'll never want to settle for ho-hum traditional mashed potatoes again. The tahini infuses the mash with a nutty edge and contributes to the overall creamy texture. For the smoothest texture, break out the food processor, but a good old hand-held potato masher can create a more rustic presentation.
Written by Matthew Kadey, MS, RD